CHALLENGE
Facing Telecommunications Obstacles in Japan, Company Reengages Digiclarity
In a landscape as competitive as the hotel and resort industry, outstanding customer service is paramount. So, when They suddenly experienced numerous call-center problems within its Tokyo network in 2019, it became a chief concern for executives. Poor quality and dropped transfers were negatively impacting the customer experience. Not only that, but these issues also had internal repercussions as call-center employees were resigning out of frustration.
A longtime Digiclarity client once again turned to its trusted partner for support. We were already intimately familiar with Their system on the Amazon Connect platform, having recently built custom technology to migrate its global call center at an unprecedented rate. Our new task was to determine the source of Tokyo's network issues and quickly implement a solution that would return customer service to previous levels and reduce employee attrition.
APPROACH
Digiclarity Leverages WebRTC Expertise to Conduct a Full Network Analysis
We immediately tapped into our deep experience with Web Real-Time Communication (WebRTC) APIs. Partnering with their senior network engineers, we performed a technical analysis that evaluated, among other things, various packet captures. We discovered that Tokyo's call-center complications were completely random and exceptionally hard to catch. Without being able to spot problems as they occurred, we would not be able to diagnose their root cause. Adequate tools for sourcing quality and transfer issues in real-time unfortunately did not exist. Therefore, as with their global call-center migration, we brought in our engineering team to develop the necessary technology to solve our client's urgent challenge.
SOLUTION
Digiclarity Introduces a Brand-New Way to Track MOS
The key to ongoing stability would be the capacity to monitor Amazon Connect for changes in the Mean Opinion Score (MOS) of VoIP call quality as they took place. Our solution was to build an extension for Google's Chrome web browser with that exact functionality. This solution, the MOS Chrome Extension, featured a number of capabilities:
Score tracking: Real-time MOS scores were recorded and presented statistically as well as in graph form charting each call's changes over time.
Call review: The extension's panel included a History option that allowed users to revisit quality metrics at any point after the call.
Data export: For convenience, data captured by the extension could be exported as a CSV file for further review offline.
Dashboard: The extension offered agents a live Dashboard to track any and all calls under their oversight.
Troubleshooting: An automated Troubleshooter option made it easier to address issues related to making or receiving calls.
Here are some screenshots of the extension in action: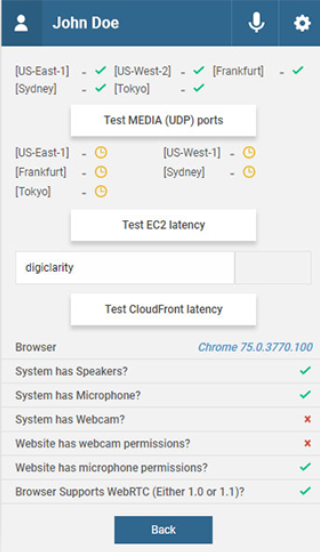 Using our MOS Chrome Extension during working sessions with their network team, we followed numerous dropped calls in real-time. The tool ultimately traced the issue to a particular form of antivirus software consuming all ports in network address translation (NAT) tables. The software prevented Amazon Connect from gaining a solid connection, resulting in Tokyo's call-center difficulties.
RESULTS
MOS Chrome Extension Offers Long-Term Call Center Peace of Mind
Our new tool became an invaluable asset for their call-center agents. From then on they were easily able to spot a quality issue and alert network engineers, who could then quickly begin packet capture and check the system's firewall. MOS scores improved significantly thanks to fewer dropped and missed calls. The tool's versatility allowed us to isolate and resolve other issues within the network as well, elevating MOS even further.
Given our initial successes with them, we have since applied the MOS Chrome Extension to other clients experiencing related network issues. Our tool has become a best practice for call centers operating on VoIP platforms, including Amazon Connect.
| | |
| --- | --- |
| Client | One of the world's largest Hospitality providers offering 5,800+ properties and 939,000+ rooms across 17 brands in 114 countries. |
| Timeline | 3 months |
| Challenge | Identity and resolve Company's call center connectivity issues in Tokyo. |
| Solution | MOS Chrome Extension |
| AWS Services | Amazon Connect; ElasticSearch, Kibana |
| Results | Reduction in dropped/missed calls Improved MOS scores Resolution of multiple network issues |